Confort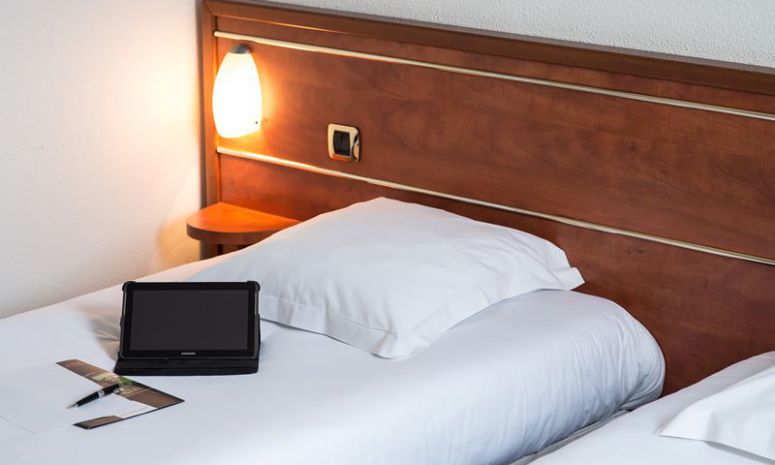 Our advantages
air-conditioned room

Outdoor swimming pool

8 bedrooms with king size bed (180x190)
Our rooms
A hotel with renovated rooms
Brit Hotel Angers Parc Angers Parc Expo - L' Acropole has 56 modern rooms equipped to relax or work. The rooms are equipped with a flat screen LCD television.

Parking

Free Wifi

Home 24H/24

56 rooms

Air-conditioned rooms
Restaurant

Animals accepted : €8,00
We have also installed a direct line telephone and an Internet connection socket. Of course, you can connect to the WiFi network free of charge throughout the hotel, connected to the Optical Fibre.
Finally, all our bathrooms are complete and equipped with a shower or bathtub.
Several categories of rooms
One of the specificities of Brit Hotel d' Angers is that it offers several types of rooms in order to best suit your needs. In total, we offer you 7 types of rooms:
The standard double bedroom
The room privilege double bed
Standard twin room (twin beds)
The twin privilege room
The triple room
The "suite" is equipped with a lounge and a private terrace.
The family room
St-Sylvain d'Anjou
Near the hotel
In front of the Exhibition Centre in Z.A. Bon Puits
-15 min from the Convention Centre
-10 min from Angers city centre
-5 min from St Barthélemy d'Anjou industrial park
. 5 min from Ecouflant industrial park
. 5 min from St Sylvain d'Anjou industrial park
. 10 min from Jean Bouin stadium
. 15 min from the Technology Park(Technopôle Belle Beille)
-20 min Angers railway station
-20 min from Angers-Marcé airport
-1 hour from Nantes-Atlantique airport
. 2 min from A11 motorway
Access
To get to the Brit Hotel d'Angers:
-A11 motorway(Paris-Nantes)
-Exit 14b Parc des Expositions